Video conference room
The computer centre offers the members of the Otto-von-Guericke University the possibility to use a video conference room.
This can be used for different situations due to its equipment:
Video conferences
Meetings
Trainings
Presentations
Defences / Dissertations
...
The video conference room is located in building 26.1-010 (G26.1-010).
Room equipment
Video conference system
Two Full-HD cameras for two modes


Presenter - View of speaker
hall - view of the seats in the room

Audio system (boundary microphone, ceiling loudspeaker)
Full-HD control monitor
Two Full-HD projectors
Laptop / Notebook for the lecturer / teacher / moderator
Presenter
Various adapters (e.g. DiplayPort-to-HDMI, ...)
Infinitely variable room lighting
Air conditioning
30 seats
20 Thin-Clients (designed for a variety of uses)
WLAN / Wifi (OvGU-802.1X and eduroam)
2 LAN ports for guests (for external lecturers, etc.)
Booking
A booking is required in order to use the video conference room. The bookings of the room can be viewed in the LSF. Booking can be done directly via LSF (please contact your LSF commissioner (LSF-Beauftragte/r)) or via IT-Service (Web: urz.ovgu.de/ticket; Mail: it-service@ovgu.de)
Room Overview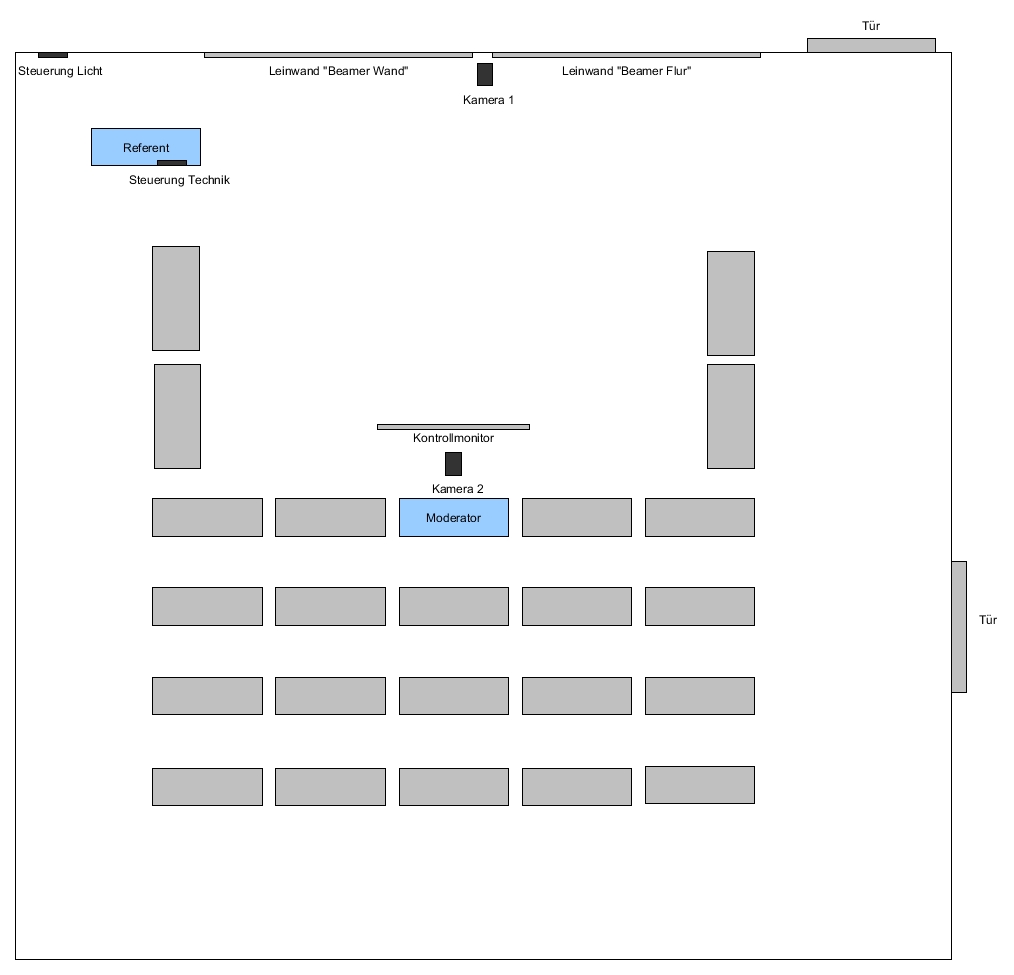 Video conference room Overview
Use of media equipment
The whole media and viedo-conference equipment in the room can be operated via the touch display located at the speaker's seat. Below you can download a document explaining how to use it.
Use of room lighting
The lighting in the room can be operated at the central control unit (behind the speaker's seat on the wall).
Holding a Videoconference
Setting up a video conference or dialing into a virtual conference room (which you received when you booked the video conference room) is very easy and requires no special knowledge.